bemused_leftist
The 12 Word Platform:

Medicare For All.
End the Wars.
Soak the Rich.
Hug the trees.
(deep bow to Riverdaughter for the first three lines)
On most issues I'm way left of Obama and somewhat left of the Clintons and Gore.
My Political Views
Left: 6.09, Libertarian: 2.16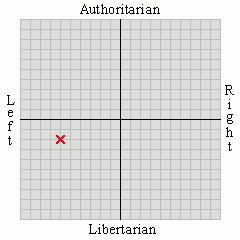 Political Spectrum Quiz
I support Wikileaks; I favor single-payer health care for all; full equality for GLBT; immigration reform; free contraceptives, abortion, and childcare for all; legalizing recreational drugs; jail for violent crimes only; Deep Ecology; animal rights; strong environmental action; alternate energy; organic agriculture; etc etc.
I sometimes post defenses of corporate media targets such as the Tea Party people and Sarah Palin, for these reasons.
1. sense of fairness
2. civility improves outcomes
3. no one else is doing it
----------------------------------------
-------------

Testing this for searching my site. It finds some entries with the keyword but not all. Sorry I don't known how to use tags.

To search my site, enter in Google's box:

site:bemused-leftist.livejournal.com Medicare

site:bemusedoutsider.livejournal.com Medicare

or whatever.